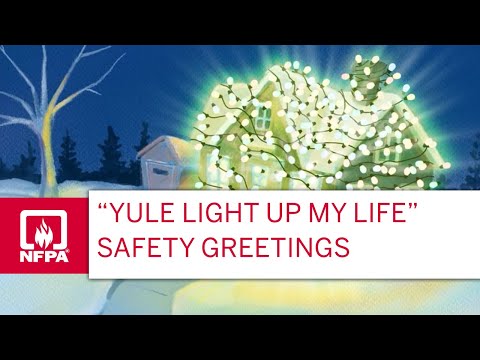 According to the National Fire Protection Association, there are an average of 210 fires caused by Christmas trees each year. Let's keep our homes safe this year as we decorate for the holidays.
Picking a Tree
For a real tree, check that the needles are green and fresh.
If your tree is artificial, make sure the label and manufacturers state it is fire retardant.
Finding the Perfect Spot for Your Tree
Before placing the tree in the stand, cut 2″ from the base of the trunk.
Make sure the tree is at least three feet away from any heat source, like fireplaces, radiators, candles, heat vents or lights.
Make sure the tree is not blocking an exit.
Add water to the tree stand daily.
Decorating Your Tree
Take note if your lights are labeled for indoor or outdoor use only.
Replace any string of lights with worn or broken cords or loose bulb connections.
Read manufacturer's instructions for number of light strands to connect.
Never use lit candles to decorate the tree.
Always turn off Christmas tree lights before leaving home or going to bed.
After Christmas
Find a place to recycle your tree. Do this sooner than later especially if the pine needles are falling off and your tree is dry.
Don't lean your dry tree up against the outside of your house, as it's a fire hazard.
Bring outdoor electrical lights inside after the holidays to prevent hazards and make them last longer.
FYI
Some type of electrical distribution or lighting equipment was involved in one-third (35%) of home Christmas tree fires.
Two of every five (38%) home Christmas tree fires started in the living room, family room, or den.
Happy Decorating!
Mark Olsen
NFPA, Christmas Tree And Decoration Fires, 2017. http://www.nfpa.org/public-education/by-topic/seasonal-fires/winter-holiday-safety/christmas-tree-fires